Holland's European capital of culture Leeuwarden dares to be different, with a potato sack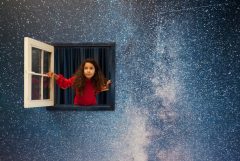 Leeuwarden-Fryslân launched its year as one of the two European capitals of culture for 2018 with a series of events in late January.
A triple maxim underlines the festival, which includes an exhibition on the colourful (alleged) spy Mata Hari, artist Escher – both born locally – and a piece of drama involving 100 Friesian horses: "Dare to dream. Dare to act. Dare to be different."
Any glossy PR agency can devise a slick but meaningless slogan for such an event, but Leeuwarden-Fryslân's ambition deserves that string of words more than most. At the press launch at the Dutch embassy in London we were given the standard background information, presented at these events, in a potato sack, with a poem attached entitled "Fresh potatoes". It includes the line "how does a weed become currency?
The significance of the sack is in Leeuwarden's links with the other cultural capital, Valletta in Malta. (Cultural Capitals always come in pairs.) Leeuwarden takes Valletta's potatoes, and responds with a poem. The two capitals are working together on exchange programmes which includes  such events as Potatoes Go Wild.
There is a Cultural Capital of Europe every year. It works like this. Two different EU countries hold a national competition. Two cities, or in the case of Holland a wider region, Leeuwarden-Fryslân, (Fryslân, or Friesland, is a province in the northwest of the Netherlands; Leeuwarden, pop 108,000, is the provincial capital of the Friesland) are given the designation of Cultural Capital of Europe for a year.

Leeuwarden-Friesland, on the Wadden coast, submitted its successful bid in 2013. It proposed a national Dutch event, with its epicentre as Leeuwarden and the province of Friesland.
The European jury was impressed by the ideas in Leeuwarden's bid book (presentation book), in particular the emphasis on the Frisian mienskip (community).
Leeuwarden will stage multiple events, along with the wider countryside of Friesland – which British readers will know as the place of origin for the famous Friesian cows – about two hours by train north from Amsterdam. (By a piece of good timing for British visitors, direct London to Amsterdam trains begin running on April 4, 2018.)
There are 45 projects in the core programme. These will take place alongside hundreds of events in the community programme, put together by the Friesian people themselves. These are ideas from the villages, countryside and urban areas, anything from a play in a village to a world record attempt to make the largest crocheted blanket in the world.  "There will be giants in the city, theatre held in greenhouses, art in no-man's land. We give our imagination the space and our space to imagination."
One of the big events is Mata Hari – the Woman and the Myth – the definitive exhibition on this enigmatic figure, executed by a French firing squad in 1917, held in the Museum of Friesland.
It includes personal belongings, photos, scrapbooks, letters and military files, throwing light on Margaretha Zelle, as Mata was christened, when she was born in Leeuwarden. It follows her time in the Dutch East Indies, and on to the Parisian dance theatres, and into the web of intrigue that ensnared her in the First World War.
One of the biggest events, the grand musical theatre piece De Stormruiter (The Rider on the White Horse), will involve  a leading role for 100 Friesian horses in a story of an overconfident dyke master, and the region's eternal battle against the water. De Stormruiter is based on a nineteenth-century novel by Theodor Storm.
Another of the big events in Cultural Capital Year is a display by French troupe Royal de Luxe in Leeuwarden in August. This troupe has previously performed to acclaim in Antwerp and London. In Mexico 3.5 million visitors saw their show.
Other projects expected to attract big crowds include 11 Fountains, Farm of the World and Sense of Place.  whatThe organisers made this not unreasonable promise: "None of our programme elements is stuffy."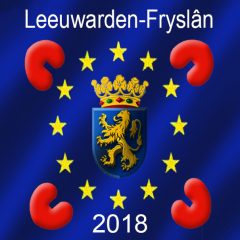 One theme of Leeuwarden-Fryslân 2018 is 'Iepen Mienskip' (an open sense of community). Events will range from town square musical performances to a comprehensive study of the province's newest village, Veenwoudsterwal, to illustrate how Frisians connect to their villages and the people around them.
An audiovisual portrait has been compiled on all 128 households in the village, drawing what is believed to be a  unique picture of a complete community. This act of collecting and sharing stories, the organisers believe, will build connections between people and strengthen the community. Their individual accounts are being broadcast by local media over 128 consecutive days. The archive will remain online, to be consulted far into the future.
Another theme is the celebration of the bicentennial of General Johannes van den Bosch's Society of Humanitarianism. Van Den Bosch believed that man can elevate himself by making the most out of the nature and world that surround him. He encouraged poor families to set up a colony to cultivate the harsh lands in the border region of Friesland and Drenthe.
Theatre performances will introduce audiences to the life and achievements of these self-help colonies. In 2018 the Colonies of Humanitarianism are expected to be designated UNESCO World Heritage sites.
Big events, from the Olympic Games downwards, routinely promise to create a legacy, and often don't deliver. The organisers promise one here, too. "We think that the cultural initiatives should mean something. That they give a fresh boost to our way of thinking and living, in categories as diverse as clean drinking water, multicultural society, sustainable innovation and fighting poverty."
The organisers stress an ongoing commitment to biodiversity, "to make vibrant fields out of our pastures, turn the Wadden coast into an open-air museum full of art, [drawing] new energy from water…"