01 Arrival
Consider travelling onto other places on your itinerary in Japan after you arrive, if it is possible, and save Tokyo until last. Then you take it on, fresh and prepared.
The 2019 Rugby World Cup opens on Friday September 20th, when Japan plays Russia in Tokyo.
The whole of the country, and Tokyo especially, is expecting a big tourism bounce. This endlessly fascinating metropolis is a thrilling mix of the enormous, the intimate, the futuristic and the very old.
Tokyo is beyond big. Think of it is as a series of smaller cities, linked together without a gap, each with a station five times the size of a  London terminus.
And yet many British visitors travel overnight from London, arriving for breakfast – Japan time. Not the best hour to begin a punishing Tokyo schedule. I would recommend travelling on to other places on your itinerary, if it is possible, and save Tokyo until last. Then you take it on, fresh, clear of jet-lag  and prepared.
Banner photo: Huffington Post
02 What to see and do
City sensations
Tokyo's version of South Kensington is Ueno. Five museums include the National Museum of Western Art. A neat counterpoint to the V&A, our museum of Oriental Art. it has an original Rodin's Thinker. The National Science Museum, Tokyo National Museum and Archaeological Museum complete the cultural rich list. My personal highlights include Sensoji, the tremendous 1400 year old red Buddhist temple in Asakusa, the 1900 feet high Tokyo Sky Tree, and the many gardens, soothing green oases with a teahouse and a lake. These places are not within walking distance, so you will need public transport. It is clean and comfortable. Busy train cleaning teams rate one of Japan's sensible solutions. And those people wearing face masks? Not fussily avoiding germs, but trying not to spread their colds.
Ginza glitz
The Ginza shopping district is brash and lavish. Like 5th Avenue, Regent Street and Times Square all mixed into one, only bigger and higher and with more neon lights, pulsing and sparkling at full wattage. The gilded centre is lined with huge department stores, flagship electronics shops, car showrooms and fashion boutiques to shame Paris. In one store I sampled a $50,000 massage chair, which worked out a unique 20 minute pummeling programme for my back. In the five-storey Sony Tower I caught Jurassic Park in the p[lush home movie gallery. Yet Ginza can be intimate and personal too. In an art and craft shop I found an exquisite box for business cards, hand made from paper, for under £10. They gift wrapped it most meticulously, without me asking.
Welcome 
Not long into my trip to Japan, I gave up trying to slip quietly and unnoticed into a public place, because I knew the staff would not permit it.
No sooner would I cross the threshold of a restaurant, for example, than a chorus of greetings arose, to be carried on into the deepest depths of the kitchen by the most humble dish washer, or so it seemed.
It didn't matter where I was – a sidestreet restaurant in Kyoto or a gift shop in the brash and gaudy Ginza – the country's salutation at full throttle was as precisely performed as a piece of traditional theatre. And the chorus of greeting that swelled up when I entered was mirrored by an equally enthusiastic outbreak of goodbyes when I left, sending me off into the night.
Tackle a tour
Most tourists visit Tokyo as part of a longer Japan holiday. The city can daunt and overwhelm if you arrive jetlagged from the airport. Best save it to last, when you can take it on, fresh and revived. Tokyo is beyond big. Think of it is as a series of smaller cities, joined up without a gap, each with a station five times the size of a London terminus. With a good guidebook (see also www.gotokyo.org) and help from the hotel concierge, you can navigate the vast train and underground network by yourself. Or join other guests and hire a guide through the hotel or the tourist board. Dont take a coach trip: you'll miss the buzz, and the fabled Tokyo commuter show – trains packed with oceans of impeccably dressed office workers.
Magic mountain
Hokusai – Beyond the Great Wave. 
The one unmissable out-of-town attraction in Japan is Mt Fuji. The best place to take in the majesty of this perfect cone is out at sea, where artist Hokusai pictures the famous breaking crest (with Mt Fuji under it). To arrange such an offshore trip, and in such tumultuous seas, is, of course, impossible for the ordinary visitor.
The easiest view is from the Bullet Train, heading south from Tokyo. The railway company usually books tourists a window seat.
I joined a coach tour, for many tourists the only way to reach big out of town attractions. However by the time we had picked up clients from other hotels, and been stuck in traffic jams, there wasn't so much time to spend at our destination. On the way the sacred mountain rises above a patchwork of valleys and small fields in a rare green corner of built-up Japan. We travelled to the Gotemba Fifth Station, 2400 m, just about the treeline, two thirds of the way up.
It's natural that you would want to visit Fuji, but I almost regret that I did so. My close up view was disappointing, although the view out to sea was fabulous. The slope above us was bare, black and bleak. it was late autumn and last winter's snow had retreated to quite some distance above us. It would not be replenished for another month. Snow can carry on until April, which is when the promotional photographs are taken. Spring is the best time to visit.
But keep thinking about Hokusai's view through the Great Wave.
---
You can actually get quite close to Station 5 for nothing with your rail card, and much more quickly than the coach. I know this because 20 minutes down the mountain from Gotemba we passed through a small town where I noticed a station. I assumed a link back to Tokyo. The coach party was going on to a boat trip on the lake and a ride on a cable car. I preferred the city, and asked the tour leader if I could head back on my own.
After some mild consternation she was all cooperation. She helpfully told me times, where to change and how long it would take me.  With one quick change I was back in the city, about three hours before the coach.
Edible origami
Eat out in Japan, and you join in a piece of ancient theatre. The second I crossed the threshold of a restaurant, a chorus of greetings arose, carried on into the depths of the kitchen by the most humble dish washer, or so it seemed. Then I took my shoes off. Why not? It keeps the place so much cleaner. And those rice paper windows? They shut out the glare, yet let in the light. I ate in a tiny sushi restaurant (there are hundreds), sitting at a counter in front of the chefs, drinking endless cups of Japanese tea (beer and wine are expensive), watching deft fringers conjure up edible origami. My departure was marked by an equally cheerful outbreak of goodbyes. In another restaurant I witnessed full  diner participation, a party of office workers joining a procession of clashing, chanting musicians from the country.
Bullet train
The best place to see effortless and awesome time keeping is the Bullet Train (Shinkansen) platform of any large station. My train to Tokyo from Kyoto was due to leave at 08 56. Naturally my driver delivered me to the station in good time.
As I stood on the platform no fewer that four trains to Tokyo glided in and sped away to the appointed second, 1000 tonne monsters moving with balletic precision. Some trains terminated here. The second the last passenger had alighted, the cleaning detail boarded like a military invasion squad.
The Shinkansen, and some are quite venerable by now, became part of Japan's post-war tourism success story from early on. Imagine if visitors to the UK had our railways automatically included as part of their tourism experience. Just think, if zipping from London to Edinburgh or Exeter or Carlisle was part of what we wanted to boast about. And, as a bonus to our visitors, we always sat them in the right seats for the best views of, say, the Pennines or the Marlborough Downs. (It's a routine act of welcome for the train people to reserve seats for foreign visitors on the Mount Fuji side, for that fabled view 20 minutes south of Tokyo.)
You don't have to be a rail buff or follower of fine engineering to appreciate the Shinkansen. They are abundant and go everwhere. They speed down to Kyoto and Osaka, on to Hiroshima, and ending at Kagoshima at the foot of the island. They go north as far as Shin-Aomori. You may think you prefer the comfort of a car even on holiday in Japan, but, believe me, you will be a little mad not to take the train. It's hard to see how else you would want to take in Japan as a tourist.
While we fret about HS2 here in the UK, the Japanese long ago saw the Bukkt Train as the solution to the conundrum of moving about quickly in their small, densely populated country. It is sleek, and furiouly fast.  I used to think it was some kind of prestige service. But the train is  included in the unlimited travel you get on Japan Railways for a week, and all for £234.
Finding your way
I never felt lost, with or without translation. I could be independent, even in massive, flat-out Tokyo. The concierge helped me plot a route, the station names were in English and taxi drivers delivered me safely back to the hotel.
03 Where to stay
Finding Lost
I stayed in the Park Hyatt, where they filmed the movie "Lost in Translation".  It is set exclusive and apart, way above this full-throated city, starting on the 39th floor of the Shinjuku Park Tower. After dinner in the New York Grill on the 52nd floor, I sat with a drink, like Bill Murray and Scarlett Johansson, mesmerized by that endless torrent of vehicle lights far below on the expressway built for the last Tokyo Olympics in 1964. Non-residents are free to share the experience.
One notable thing that night was an unmistakable tremor. I felt it in my 41st floor room, just before I went to dinner. It lasted for about three or four seconds, and felt like hailstones rattling on the windows. The hotel's PR lady, who joined me at dinner, described it as a .3 earthquake. Happens all the time, she said, although guests can become quite agitated.
I have felt tremors in Turkey, and was less concerned than I might otherwise have been. This hotel is on safer ground, literally. Massive weights, built into the superstructure about half way up, absorb the force and keep the structure stable.
Other Lost in Translation locations – http://www.japan-guide.com
04 Nearby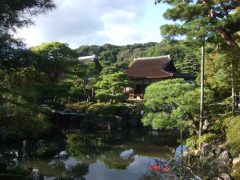 Kyoto
In a solid day's parking and visiting I think we saw seven temples, scattered across Kyoto.
Each, its ancient wood restored to a high order, was a beautifully restored testament to Japan's complex war lord-dominated history. And each left me with a memory to distinguish it, such as a grove of ancient cherry trees, or a temple's golden reflection in a lake on a perfect autumn morning.
But nothing so gloriously bizarre as the floor in Nijo Castle. The wooden floorboards were set to creak through a network of nails so that any intruder creeping in at dead of night would set off a sound like the song of nightingales.
We finished off in the city centre food market, one long corridor under a high roof crossing six streets. It is one of those authentic places where they make no compromise for the tourist. There is not a single sign in English over the endless shelves of fish, vegetables and pastries. This is mysterious, mainstream Japan.
In quieter streets around here I came across the baffling exhibitionism of Japanese tourists, who pay $70 to dress up in kimonos, then stand in the street and let themselves be photographed, for nothing I assumed, by other tourists.
Next day the concierge helped me plan an easy and unintimidating half day trip to Nara by train. The journey took about 40 minutes. Nara was the imperial capital before Kyoto was, and before Tokyo took up the mantle.
It was a sunny late October day, fluffy clouds in a deep blue sky. You step out of the railway station in the town centre onto a long, straight street containing the town's main historical attractions, heading uphill.  I lingered at four substantial wooden temples of various vintages (the youngest was built in 1860).
At the top of the hill more temples, an ornamental lake and park with a herd of deer genetically linked to animals that have browsed here since the Middle Ages. I suspect, though, that the shoguns, assorted warlords and samurai would not have had the patience in all their warring and ritual for anything to do with "Middle". They struck me as a very beginning and end people.
I walked back down the hill, pausing at some of the most tasteful gift shops I've seen in an out and out tourist area. Contributing modestly to the local economy, I left one with an exquisite painted card.
Back in Kyoto, I walked into the city centre to the new cartoon museum, dodging cyclists on the pavements. If this was lawbreaking, it was the most respectable kind. Smart office ladies, men in suits, venerable grannies – they all went wobbling past.
On such a high risk transport corridor, something was bound to go wrong. I saw a lady office worker knock down another lady, just like herself, and from behind. They both collapsed in a heap. Seeing that nobody was hurt, I left them to their apologies and courteous recriminations.
That night I ate to a small sushi restaurant, where, after the overture of ritual greetings, I sat at a counter in front of the chefs, drank endless cups of Japanese tea (beer and wine are expensive – typically £6-£7 a glass) and watched them prepare my succession of tiny dishes. Edible origami. I decided not to ask whether the fish was sustainably sourced.