01 In a Nutshell
Good, if busy, roads all over the county, and a largely intact train network
Pembrokeshire can claim to have inspired the career choice of Sir David Attenborough.
In an interview in the Financial Times (9/10 February 2019) the writer said Attenborough discovered his ability to convey his love of nature to a wider public by accident, during compulsory military service just after the Second World War.
"I was on a station down in Pembrokeshire. I was an education officer, also a navigation officer. We had a squadron of highly trained Spitfire pilots and all those chaps wanted to do was fly….But the government couldn't afford to put them in the air. So I was told to get them interested in something. And Pembrokeshire was marvellous for natural history. So I started courses on seabirds and fossils and all these gung-ho pilots turned out to be quite keen on it."
---
There are regular trains today from places deep inside England (Manchester, for example) as far as Fishguard and Pembroke Dock. This year (2021), however, there are no direct trains  from London Paddington into Pembrokeshire on summer Saturdays. We must hope this is only a temporary suspension of a famous service that has lasted since Queen Victoria's reign.
Holidays by Rail – Are they Nearly there?
---
National Geographic Magazine  named the county's coastline the second best in the world in 2010. The citation praised its beautiful castle-clad cliffs and 50 beaches along the coast of the Pembrokeshire National Park, deemed to be "in excellent shape, relatively unspoiled, and likely to remain so." You can savour every inch of the coastland, with its ancient burial mound, Celtic crosses and Welsh legend on the 186-mile Pembrokeshire Coast National Trail. It is part of the Wales Coast Path, which is 870 miles long.
---
Archaeologists believe they have identified the exact site of Henry VII's birth in 1457 in the grounds of Pembroke Castle.
In an initial two-week exploration in September, 2018,  they uncovered what is believed to be the remains of a massive medieval mansion fitting for one of the most famous kings. (See "Pembroke, birthplace of a dynasty".)
02 What to see and do
The Pembrokeshire Coast Path
Approach the Pembrokeshire Coast Path as you might a long menu in a restaurant with a wide choice of starters, many of them a meal in itself. You would need a giant's appetite to consume the whole 186-miles, still less the entire 870 miles Wales Coast Path, of which this is only a section.
The Pembrokeshire Coast Path runs from St Dogmaels in the north to Amroth in the south, passing through a range of maritime landscapes, from rugged cliff tops and secluded coves to wide beaches and estuaries.
It lies almost entirely within the Pembrokeshire Coast National Park, which is Britain's only coastal national park.
The path's 35,000 feet of ascent and descent is the  equivalent of climbing Everest, without the oxygen deficiency. Most walkers take it on in shorter sections. There are many coastal villages along its length offering refreshment.
Industrial hub
The southern part of the Pembrokeshire coast bristles with unexpected industrial history. We think of the Welsh valleys thick with smokestacks and pit heads as the thumping here of Welsh coal extraction and steel and iron manufacture, but there is the evidence of long and serious industry in quiet backwaters such as this. The clues that somewhere, such as Abereiddi, was once very busy is in the eroded remains of labourers' cottages. In other places those that stood up long enough after the decline are now holiday cottages.
Porthgain was an industrial powerhouse in its day. The roads of England were paved with crushed dolerite processed here. Now gentrification is complete. The main industrial building is now the Shed Fish and Chip Bistro. They serve exquisite fresh crab sandwiches. We ordered the same at the Sloop Inn opposite.
St David's
One circular local walk took us from the coast a few miles inland to St Davids, which is Britain's smallest city, by virtue of its cathedral. We arrived early to benefit from its remoteness. Most day trippers, coming from afar, don't get there until well on in the morning. We came across the intimate little cathedral, nestling in a green valley, well before the throng.
In the nave we did some entry-level surveying, measuring the startling incline on the spirit level app on a smartphone. It is almost two degrees.
St David's has an understated nobility, because of its size and unusual position. On a scale of conspicuous cathedrals, Lincoln would be a 10. St David's would be a 1. It was a steep climb up to the city, in reality a pleasant little town, where are you succumb to the Italian charms of  the Bench cafe for coffee and ice cream.
Tenby
A line of high and narrow Georgian and Victorians town houses in delicate pastel colours wraps around Tenby's sea front. They perfected the design of this gorgeous little resort over 150 years ago, so why do anything more? The Victorians came for healthy walks and guaranteed shelter – to dodge the wind you either go north to the sandy beach, or south to the exquisite little harbour. Novelist George Eliot was inspired enough by her visit in 1856 to take up writing. Tenby's rich helping of history includes the Tudor Merchant's House and the 13th town walls and gatehouse. I like the tight, switchback streets, with pubs and restaurants competing hard, their menus chalked up on blackboards outside.
In 2017 Tenby was placed in the top five 'staycation' seaside town destinations in the UK in a new online study. The website Marbles analysed data from various sources and scored towns to come up with a ranking for 'The Best Seaside Towns for a Staycation'.
The metrics included the cost of a hotel room per night, Airbnb availability, the number of restaurants and pubs, taxi prices, the number of attractions, annual sun hours and rainy days, the number of fish and chip shops and and beach grading.
Southwold in Suffolk topped the best  'Staycation' list.  Tenby was fourth, and the highest listed Welsh town, behind Bamburgh and Woolacombe, and ahead of  Brighton and Blackpool.
Pembroke – Birthplace of a dynasty
Pembroke, is technically on the coast. The tide probes almost under the walls of the castle where Henry Tudor, who became Henry VII, was born in 1457, (It was restored to its formidable Norman pomp after a crumbly, ivy-covered interlude in the 1900s.) But it feels like an inland town.
The castle, proud and imposing above this ancient town, is just one the county's rich crop of citadels, The list includes Manorbier, Cilgerran, Haverfordwest, Lamphey, Llawhaden, and Picton castles. There are over 50 all told, if you include forts and the reconstructed 600 BC Iron Age citadel Castell Henllys. Leading the list is Carew Castle. It overlooks a serene millpond, with a 11th century Celtic Cross and Wales's only restored Tidal Mill.
---
September 2018 update.
Archaeologists believe they have identified the exact site of Henry VII's birth in 1457 in the grounds of Pembroke Castle.
In an initial two-week exploration in September, 2018,  they uncovered what is believed to be the remains of a massive medieval mansion fitting for one of the most famous kings.
Until now it had been believed Henry, the first of the Tudor dynasty, was born in the castle's 13th-century tower – it is known from documentary evidence that he was born somewhere in the the 11th century castle.
Finds in the short dig include part of a metre-thick walls – and that is before they even reach the main floor levels; and many slates and tiles, which suggests a slate roof. Green-glazed ridge tiles and a curving stair from a spiral staircase are another clue to a particularly imposing building, "a fairly showy building" inside of the outer walls of the castle.
It is about the size of two tennis courts; the scale of the walls suggests a building of considerable height.
Full article. https://www.theguardian.com/science/2018/sep/16/likely-birthplace-of-henry-vii-found-in-pembroke-castle
The last major late medieval discovery was the grave of Henry's vanquished arch rival, Richard III, found under a car park in Leicester. The archaeologists hope to return to continue their dig.
Dobby - RIP
Cafe Mor (with harpist) at Freshwater West
In 2009 Hollywood transformed Freshwater West, the huge beach and the sand dunes behind it, into a Hollywood film set, for the seventh and final Harry Potter film (Harry Potter and the Deathly Hallows). (Earlier director Ridley Scott used the beach to film a battle scene for his Robin Hood movie.)
Shell Cottage was built among the sand dunes (and every last trace of it removed afterwards, of course). In the film this was the base for newlyweds Bill Weasley and Fleur Delacour. Harry, Ron, and Hermione stayed in the cottage while planning the break-in of Gringotts Wizarding Bank. "Harry could hear the constant ebb and flow of the sea, like the breathing of some great, slumbering creature."
The grave of the house elf Dobby was mocked up here too. Even on a busy summer day this end of the beach can be quiet. So, even though there's nothing to see, let your imagination roam.
More Pembrokeshire pieces
03 Where to stay
A National Trust farm and a luxurious castle on a pinnacle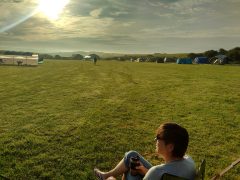 Photo – Gupton Farm, National Trust Camping.
Gupton Farm
The National Trust's Gupton Farm opened in spring 2017 and offers a campsite and farmhouse accommodation a short walk to Freshwater West. Since 2013, when it stopped being a tenanted farm, the Trust has applied a more sustainable approach to farming with a conservation focus, which includes restoring and extending historic habitats and working with nature to adapt to coastal change caused by climate change.
2. Grove
Grove of Narberth has been listed as one of the UK's '"best hotels" by the London Standard. "A smart country house hotel lies behind the white-washed Georgian façade…. boasts antique and handmade furniture, sumptuous Persian rugs and delicate fireplaces. Two dining options are each equally romantic – Fernery restaurant for fine dining and Artisan Rooms for a more relaxed experience, both serving local Pembrokeshire produce."
3. Celtic Haven
From our breakfast table in Cranberry Cottage we could see the breakers crashing onto the rocks just along the rugged coast towards Tenby. Celtic Haven, a huddle of 26 white-painted houses close to the cliff tops, looking across to Caldy Island, shows how to do holiday development well in a precious landscape. They've squeezed in a spa and swimming pool into this complex of former estate cottages, farm buildings and the stable of a horse that won the Scottish Grand National. There's a terrace for sunset cocktails where you look out to sea, next to the restaurant, Waves. They keep a link with the fields around, sourcing meat and vegetables locally, and buying fish fresh off the Tenby boats. http://www.celtichaven.co.uk
4. Roch Castle
"A mix of hotel and self-catering": that's the description of Roch Castle (www.rochcastle.com), on its private pinnacle with views over St Brides Bay and the Preseli Hills. One tweet enthused "breathtaking and luxurious".
Six rooms in the Hotel of the Year 2016 in the Welsh Hospitality Awards can be booked either individually or as a group booking for special occasions. Breakfast is provided every day; guests can cater for themselves for the rest of the day or arrange catering on request. There are honesty bars.
04 Nearby
My article on Carmarthenshire, cycling hub county.
Laugharne, near Carmarthen, was the place where Dylan Thomas and his wife Caitlin were happiest, in their tempestuous and peripatetic married life.
They lived at Eros on Gosport Street, before moving to Sea View, just behind the 13th Century castle. Their favourite home, the Boat House is restored and open year round. www.dylanthomasboathouse.com
The Dylan Thomas Trail (www.carmarthenshire.gov.uk) connects all sites, including Brown' s hotel and St John Hill. The couple are buried in St Martin's Churchyard. Caitlin outlived her husband by 41 years.
Spiky Cymru Noir drama keeps faith with Carmarthenshire