01 Arrival
The easiest way is by Eurostar from London St Pancras, in just over 2 hours.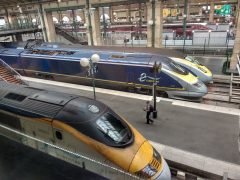 Gare du Nord
The easiest way is by train (Eurostar) from London St Pancras, in just over 2 hours. Train is the clear winner in terms of time, too, if you are coming from London and SE England
If you fly, the RER takes under 30 minutes from Charles de Gaulle airport. From Calais it's about three hours, 289 km, by road.
02 What to see and do
An eternal allure
The French capital's charm and allure is eternal, its glowing, indomitable spirit undimmed by terrorism. I returned (August, 2017) to one of our best loved cities, visiting haunts both fresh and familiar to me.
Soft entry
If you are coming by train, try an acclimatising walk from the station as an alternative to the plunge straight into the Metro at Gare du Nord.
I recommend this, if you are travelling light. Guided by Google Maps, our route was out onto Rue de Saint Quentin, then down Boulevard de Magenta.
It took us left to Canal Saint-Martin, with a side-step into the little park Square Villemin to smell the lilacs. An Antoine et Lili, one of the inexpensive chain selling hand-made women's and children's clothes and colourful ethnic trinkets, stands on Quai de Valmy.
We stopped at Restaurant La Marine for lunch, then continued through two outdoor markets to the Bastille (the accompanying canal is underground by now). This is the site of a great turning point in French history, yet the only trace of the original prison, torn down in the Revolution, is a piece of wall on line 5 in the Metro station.
The Marais
If you visit the Picasso museum (St Paul Metro, Rue de Rivoli), it makes sense to explore the Marais, and its Jewish quarter, more widely. There has been recent gentrification, but there is still lots of original character in buildings, shops and cafes. On our visit an accordion and violin duo were playing soulfully on the pavement.
The queue was long at the celebrated L'As du Fallafel, Rue des Rosiers. So we turned instead to Florence Kahn's bakery, behind a vivid façade of blue mosaic, opposite. We ate our Linzertorte and Apfelstrudel on a bench in Rosiers-Joseph Migneret Garden, a jewel of a park, bursting with flowers.
Resting place
The grandest cemeteries distinguish great cities – Highgate in London, Zentralfriedhof in Vienna, Washington DC's Arlington. But there isn't a resting place to match the random narrative of bygone lives told in Père Lachaise.
It is steep and rambling and crammed, but also green and shady and ringing with bird song. There is a haphazard scattering of elaborate tombs, some like stage props from the last act of an Italian opera. Others are poignantly minimalist. We found, quite close together, Chopin, Moliere, Edith Piaf, and Lady Amherst, who gave her name to a pheasant.
Everybody here is equal in theory, but some residents go way beyond the merely famous. The epic statue by sculptor Jacob Epstein decorating the tomb of Oscar Wilde was recently enclosed within an adulation-repelling, kiss-proof glass screen.
Too grand to walk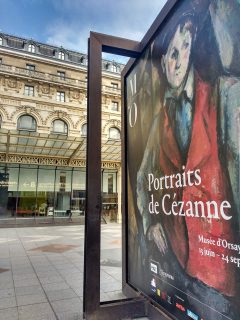 Musée d'Orsay
It's important not to wear yourselves out in Paris. The Champs Élysées is 1.2 miles long and 230 ft wide. Why walk it?
The 73 bus (it starts at Musée d'Orsay) runs its entire length, from Place de la Concorde to the Arc de Triomphe. The best time to see it is in the evening, when you beat the crowds.
Try pairing the Arc with the Eiffel Tower. Now this ought to be the ultimate tourist logjam, but it isn't. Get there on the (light green) Metro line 6 direct from the Arc (Charles de Gaulle Etoile) to Bir-Hakeim. Then stand back and take in the tower from the Champ de Mars. This one-time military parade ground is vast enough to swallow the crowds. (An option is to see it at night, when it is bathed in golden light.) Then stroll over to Les Invalides, for Napoleon's tomb.
One regret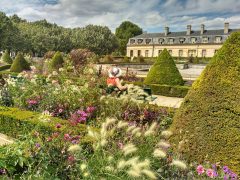 Les Invalides, which contains the Tomb of Napoleon, is part of The Army Museum. But if you only want to see the Tomb, and pay homage to, or simple wonder at, a secular national figure who has no rival in the UK, you will have still to pay the admission to the entire site, 12€.
Notre Dame (Cathédrale Notre-Dame de Paris) is just over 800 m away, but if you find the queues excessive, consider the much quieter Gothic Church of Saint-Eustache (1532–1632), where works by Mozart and Berlioz were premiered .
Simple tips
Monday is the day to improvise in Paris. Museums and galleries are closed. The same applies on bank holidays, so check before you travel. (We were once there on Sunday May 1st. A public holiday, so everything was shut. It was followed by a Monday, the 2nd – so all shut again.)
Transport advice. Buy a carnet (10 tickets) for the Paris Metro on the Eurostar, in the refreshment car. On my August 2017 visit sterling was the best bet, £15.50 (21€). Much better than the day's exchange rate.
On your return to Gare du Nord, you will probably want a drink. Pop across to A La Pinte du Nord (rooms if you miss your train) in Rue de Saint Quentin, rather than the more pompous, and expensive, Paris Nord Café directly opposite. Then buy a sandwich for the train at Paul's on the station. If you want some wine to take, there's a Carrefour in Rue La Fayette. (No problem taking it through security.)
Poetry seats
Montreal artist Michel Goulet took discarded French park chairs and set them to verse in the gardens of the Palais Royal, one of the quieter of the capital's gardens.
He fashioned the classic chairs, turning them into "love seats". On the back of each is a quote or verse  from a famous poet. You can plug in a headset into and listen to the whole poem, read by a French actor. The idea is to bring poetry to the public.
03 Where to stay
So many places. Try to make it city centre.
We stayed at the Mercure Paris Opera Louvre, 95 Rue de Richelieu. Booking online, we found that breakfast was an optional extra. So we took it at Le Pain Quotidien, 33 Rue Vivienne. Coffee and a baguette and jam for €8.
04 Nearby
I can think of no good reason to leave Paris, except perhaps to visit Versaille. And Auvers-sur-Oise.
Auvers-sur-Oise is 17 miles from the centre of Paris. Vincent van Gogh lived the last troubled, but productive, days of his life here and is buried alongside his brother Theo van Gogh.