01 Arrival
Exploring the top of the two coast county
Devon, with its two massive moors and double coastline, is too much for any one holiday. So divide it into two. Besides, the north and south coasts are quite distinct and deserve to be treated separately – balmy, almost Mediterranean beaches in the south, and rugged cliffs and long sandy bays in the north. The main city, Exeter, links bo I look at the top half of this great West Country draw, from the wild breakers at Bude to the heights of Exmoor, and all those patchwork-quilt farms, rolling hills, narrow flower-filled lanes, fishing villages and cream teas in between.th north and south and it is the obvious stepping off point for the county if you arrive by train.
For me the train recalls the thrill of childhood holiday visits, when expresses rolled down to the West Country from all parts.
But the first point of contact is Tiverton Parkway, and a bus or taxi to the north of the county. The other rail alternative is to take the Tarka Line from Exeter north to Barnstable. The shower, but more scenic entry to Devon is by South West Trains from Waterloo, via Salisbury, through steep Devon valleys, past little stone-built villages and over twinkling rivers.
Most people come to North Devon on the M5 motorway. That's prosaic, but it gets you there. Summer traffic jams are notorious.
02 sights and activities
Gothic glory
Exeter's cathedral in the Decorated Gothic style, with twin, stout Norman towers, is the distinguished central feature of this old city, alongside elegant Regency terraces. Begun in 1112, it has the world's longest (300 ft) unbroken Gothic ceiling – compared to an avenue of stately trees. The magnificent west front features sculptures of some very weathered monarchs – Alfred, Athelstand, Canute and Willliam the Conqueror, sitting informal and cross-legged as if they are chatting. There's an excellent cafe, under a fabulous vaulted stone ceiling and 18th century stained glass windows. This is a good place to try the famous
Devon
cream tea. The illustrious choir sing at evensong, Monday to Friday. Admission to the cathedral is £6. 
www.exeter-cathedral.org.uk
Tarka Line
The Exeter to Barnstaple Tarka Line is named after literature's most famous otter, ("Tarka the Otter", by Henry Williamson). It's part of a nostalgic travel infrastructure that survives to this day.
Our family trips to Devon as children, before the days of jet-away package tours, were simply the most exciting things ever. We headed west by steam train up impossible inclines over Dartmoor behind heroic monsters called King Henry V or Isambard Kindom Brunel, then changed onto little branch lines behind some Thomas the Tank Engine look-alike.
That was then. Today, as it keeps up in the world holiday market, Devon (and Cornwall) are right to let the PR people give every valley and stretch of coast a marketing name. Before my trip, I searched online in vain for The Devonian or the Comish Riviera Express of old. So I had to go to Paddington Station and, while waiting for my train, summon up for myself the spirit of those glorious old posters of holiday expresses thundering west, when the travelling was part of the holiday, and children never asked "Are we there yet?"
Those great days of steam have gone, but the route's the same. The sinuous non-stop section from Reading to Taunton is one of the most scenic journeys in England. A magnificent jumble of Kennet and Avon canal, gin-clear fly-fishing streams and pretty villages with trademark church spires flashed past. In the distance, dreamy views up to Glastonbury, and Salisbury plain. On into the rolling green hills of East Devon. Where would I rather be? G&T to hand watching the essence of rural England unfold, or toiling down the M4 and M5? No contest.
Arriving in the West Country, the romantic traveller intent on recapturing the old days is spoilt for choice. They list all the branch lines under "Great Scenic Railways of Devon & Cornwall". There's the Tamar Valley Line, the Maritime Line, the Atlantic Coast and St Ives Bay Lines.
Wild Devon
Exeter is on the doorstep of two national parks in N Devon, grand, empty and wild. Dartmoor begins just six miles away. It's an easy drive to some fine walking country, and there are trains to the pretty town of Okehampton, in the heart of Dartmoor, on summer weekends. To the
north
east is Exmoor (part of it is in Devon, the rest in Somerset), a short drive up the M5, and easily reached by train. The epic Tarka Trail weaves in a great 180 mile long figure-of-eight walking trail across Northern
Devon
, centred on Barnstaple. It follows the route taken by Tarka the Otter in Henry Williamson's book.
www.nationalparks.gov.uk
www.northdevonbiosphere.org.uk
Reserved for nature
It sits alongside top-slot locations such as the Amazonian rainforest and Ayres Rock. The North Devon Biosphere Reserve is one of only 507 such reserves in the world, and the first in the UK so designated.. These "special places for people and nature," are chosen because of the big strides taken to conserve them. Devon's Biosphere reserve (30 miles by 20) stretches from Exmoor almost to Dartmoor, and out to sea to Lundy Island. It takes in the Taw and Torridge rivers and streams, and Braunton Burrows, one of the northern hemisphere's best dune systems. Most of it is open to the public. One good way to absorb the poetry of this special place is on the 30 mile cycleway from Braunton and Meeth.
Bake on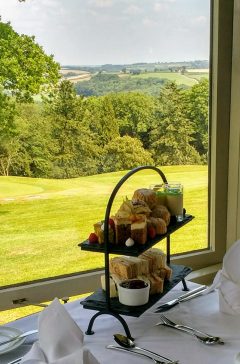 Devon cream tea, Highbullen Hotel.
It's one of the great culinary exports, now a teatime institution from New York to Singapore. But nobody bakes a fresher scone, clots a richer cream and stirs a sweeter jam than Devon, where it all started. Some say the monks at Tiverton first served Devon cream tea to workers clearing up after a Viking rampage. Only the West Country has the right combination of soil, climate and dairy cattle, and there is scarcely a cafe in the county where it isn't served. Look away from your waist-line now if you don't want to know the result of a cream of at least 55 per cent butter fat. They 'clot' the rich, unpasteurized milk over a gentle heat. A layer of cream forms, the consistency of soft butter, the colour of pale primroses. Devon's rule is: cream first, then jam. You know you reached Cornwall, because they put cream on top of jam.
Treasure trove
The brilliant, adventurous and magical Royal Albert Memorial Museum and Art Gallery (RAMM) effortlessly spans three centuries. It opened in 1868, promoting the vision of Queen Victoria's husband to bring art and science, design and technology together for the people. It reopened in 2011 after major works, with a new wing, and was named Museum of the Year 2012. The judges praised it for its "ambition and imagination". Quite randomly I came across a Greek hoplite helmet found in the Straits of Euboea in 1870; Gerald the giraffe, a popular exhibit since 1920; the regalia of Issapumahsika, leader of the Blackfoot nation; and an outstanding collection of medieval
Devon
woodwork. There's nothing remotely old-fashioned here. Information notices are bang up to date. I was so absorbed, I missed my train, but it was worth it.
www.rammuseum.org.uk/
Granite gem
Deep in greenest Devon, down high-hedged lanes, among the tucks and folds of steep and sudden hillsides, there are hide- away houses you might never know existed. Fortunately the National Trust own some of the best, so they are open to us all. One of the trust's inviting brown signs led us to a gem in grey granite, Regency mansion Arlington Court. Millions know the work of its architect, Thomas Lee. His Wellington Monument is unmissable from the M5 in Somerset. It is just as Miss Rosalie Chichester (aunt of globe circling yachtsman Francis Chichester) left it in 1948, richly furnished and scattered with delightful oddities. An amber elephant from China. A forgotten watercolour by William Blake. And umpteen model boats and ship paintings. In the grounds for a restored walled garden, there's a "wilderness walk" and a splendid collection of old carriages. A fine example of the delights our countryside still serves up. 01271 850296. Appledore's Maritime Musem is another marvel.
Arlington Court
Deep in greenest Devon, down high-hedged lanes, among the tucks and folds of steep and sudden hillsides, there are hide-away houses you might never know existed. Fortunately some are owned by the National Trust. We followed the trust's inviting brown sign and found a gem in grey granite, Regency mansion Arlington Court. (Millions know the work of its architect, Thomas Lee. His Wellington Monument is unmissable from the M5 in Somerset.)
It is just as  Miss Rosalie Chichester (her nephew was globe circling yachtsman Francis Chichester) left it in 1948, richly furnished and scattered with delightful oddities. There's an amber elephant from China, a forgotten watercolour by William Blake, and umpteen model boats and ship paintings. Then walk the grounds for a restored walled garden, a "wilderness walk" and a splendid collection of old carriages. www.nationaltrust.org.uk
It is not quite the old house star of Devon. That must be Lutyens' Castle Drogo at Drewsteignton, the last castle built in England.
Appledore's Maritime Musem is also worth a visit.
03 Some places to stay
The county has a wealth of small traditional hotels and more recent smart boutique properties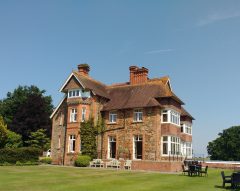 Highbullen Hotel, N Devon
Behind every glorious inland view, there's a tranquil, hide-away place to stay, complete with golf course, tennis courts, spas, easy sauntering and fine dining. Somewhere just like Highbullen Hotel.
Today any big old house in the Devon countryside is a perfect candidate for conversion into a boutique hotel. Highbullen shows the way. A frequent guest liked the old hotel so much he bought it, in 2012, and did it up.
It's in one the not-so-well-known country bits of the county, the places we used to hurry past on our way to those beach holidays. "Deep countryside calm" was high on Exeter architect William Moore's wish list when, in 1879, he designed this impressive mansion near South Moulton in the "Arts and Crafts" style much in vogue at the time. It has recently reopened as a year-round rural retreat.
Mary Berry was a recent guest, our taxi driver told us proudly, here for the excellent restaurant, I suspect, rather than the golf and the tennis. I wouldn't be surprised if a forebear of his hadn't picked up Agatha Christie, down to research a location for her next Miss Marple book. She would have found the proud Victorian façade, the deep porches and marble fireplace in the drawing room much to her taste. Now the restaurant is beginning to establish a very good reputation.
04 Nearby
Cornwall, obviously, but on no account must you mistake one county for the other