01 Setting the scene
Hull moves on after its year as UK City of Culture
Hull did not mark the moment when 2017 advanced by the requisite microsecond into 2018 with any great fanfare. It didn't want to emphasise the obvious, and not so positive, fact that it was ceasing to be UK City of Culture 2017.
Much better to tell the world that, as clichéd as it sounds, this was a continuation of a beginning, and not an end. That it was going to build on a monumental 12 months for the city with a programme of, yes, more events, but more importantly a positive forward-looking philosophy, the sort of thing winners have when they're determined not to rest on their laurels.
So the first press release of 2018 promised: "plenty to look forward to for people visiting Hull in the first months of 2018, including visual arts, theatre, music, film and performance."
I know the city, having worked there briefly at the start of my career, and have revisited several times, as recently as October 2017.  These are my thoughts, as Hull, to employ an appropriate seafaring metaphor, sets off on its latest, and even more exciting, voyage. It is going to be harder than anything it has done in the past four years, when the world of the arts and culture had focused on its preparations, and its progress through the year of 2017 itself. City of Culture status did more than any single event in its history to, firstly, simply remind the rest of the UK where Hull is, and then to promote longer term regeneration and attract business to the city
And will that widespread support and interest translate into tourists arriving by rail, but mostly by road, when even the nearest big places, such as Leeds and York and Lincoln, are an hour or more away? Can the city replace that preposition in "off the beaten track" into an "on"? This is my account of the city.
---
Like Liverpool, Hull is a seafaring city. But it has long had much more of an isolation issue, stuck far out in the east of the north, on the cold, wide, windy Humber. The building of the Humber Bridge in the 1970s helped connect it with the rest of busy Britain, but even today it is not a crossing that features much in the traffic news as a congestion hotspot.
The city centre transformation, heralding Hull's great year in 2017, included a big make-over of the Ferens Art Gallery, (it reopened in January, 2017), and a refurbishment of the aquarium The Deep, which hosted marine-themed art exhibitions during the year.
There was also a revitalisation of the waterfront and public spaces. The city promised a "vibrant" cafe culture, good food and new music venues and galleries in the arts and cultural quarter, which is how the revitalised Humber Street and Fruit Market area is now designated.
I have always considered Hull a rewarding short break destination, and good train connections, including direct services from London, make those visits relatively easy.
02 What to see and do
Fish trails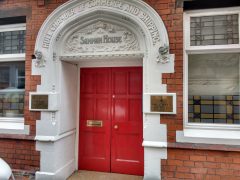 Fortune hunters, disappointed at the lack of gold underfoot in London's streets, should try Hull instead. It is literally paved with fish. You don't go far in the old town without treading on an oar fish or a John Dory cut in steel or set in polished slate. In his "Fish Pavement", artist Gordon Young created a meandering A-Z of sea life, from anchovy to zander, via quid, viviparous blenny and yarling, all life-size. They come in many materials: flying fish are in York Stone, swordfish in Cornish grey slate, and icefish are carved into Carrara marble. There's humour too – a catfish chasing a dogfish, and a shark outside a bank. Spot all 41 on this piscatorial trail and you get a certificate.
Ancient ways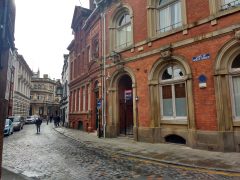 The Land of Green Ginger
Not so long ago Hull was full of mean streets where you never went for fear of being tugged down an alley and enrolled as crew for some distant voyage. Today the city's maritime heart beats with high-tech efficiency at port facilities the length of the Humber. The old port district houses smart offices, museums and picturesque pubs. But there is still a hint of mystery. A narrow city centre street has an exquisitely strange name, Land of Green Ginger, its origins still unclear. Walk down it to the George Hotel, for a glimpse through what may be the world's smallest window. More ancient yet (1550) is Ye Olde White Harte in Silver Street. Little has changed upstairs since they plotted closing Hull to King Charles in the Civil War.
Into the abyss
The (refurbished) Deep, Hull's big, bold and very striking aquarium has many fine, rare fish, swimming in fathomless tanks. But it has gathered a more unlikely accolade, as one of the 10 best places in the world to ride an elevator, alongside the Empire State Building and the Eiffel Tower, judged by USA Today. The underwater elevator rises through a transparent tube, with a stop to give visitors a mid-tank view. Architect Sir Terry Farrell designed The Deep. (His M16 block on the Thames was "blown up" in the Bond, Skyfall.) It's in the shape of a capital A on its side, clad in aluminium and black enamelled tiles, dead centre on the waterfront, jutting out into the Humber. They tell the story of the oceans "in time, depth and latitude".
Amazing Place
William Wilberforce, the Hull MP whose campaign to end the British slave trade was movingly told in the movie Amazing Grace, was born in Wilberforce House. Built in the 1660s, the house has seven galleries devoted to the man and his cause. It is one of the city's rich list of free museums. Another is the (also refurbished for 2017) Ferens Gallery, with works by artists ranging from Canaletto to Hockney.
The Streetlife Museum features a reconstructed shopping street, rare cars and an 1818 bicycle. The Hull Maritime Museum explores the city's sea-going past. Next to it is the Arctic Corsair, a Hull fishing vessel rammed by an Icelandic gun boat in the "Cod Wars".
About Larkin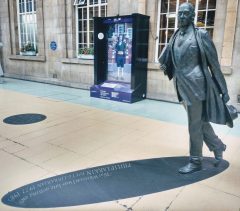 Statue of Philip Larkin on Hull Paragon Station.
Literary opinion puts Philip Larkin, librarian at Hull University for 30 years, among the most important British poets of the 20th century. The poetry of Hull University's notoriously grumpy librarian, "The Hermit of Hull", formed a key part of the city's bid. It is said to be beautifully phrased and elegantly constructed, with a direct and honest subject matter. Hull is Larkin's city "on the edge of things".
Just as the city of Derry-Londonderry used its own muse Seamus Heaney in preparing its City of Culture bid, so Hull took inspiration from  Larkin, principally his poem "Days". The idea is for each day of 2017 to make a difference to a life in the city, the UK and the world.
Sculptor Martin Jennings matched his statue of John Betjeman on St Pancras station with a re-creation of Larkin in similarly flustered pose, rushing for a train with a manuscript tucked under his arm, clutching his trilby. The likeness is on the main Paragon station, mentioned in one of Larkin's most famous works, the Whitsun Weddings, He writes: "I was late getting away".
River ramble
I recommend two short excursion excursions from Hull. The first is to the high and mighty Humber Bridge, linking Yorkshire and Lincolnshire, just west of the city. (In 2017 Opera North transformed the Humber Bridge into a piece of music.) It's a free, and quite safe walk, or cycle, the 4 miles over the Bridge and back (two miles each way). This is one of the best cobweb-clearing treks I know. The views from the middle are sensational.
Then there is Beverley, a short train trip away on the edge of the Yorkshire Wolds, not the sort of place you chance upon on your way to somewhere else. It shines out as one of Britain's classic little 13th century towns, with its Gothic Minster, narrow medieval streets, Georgian terraces and decorated church ceilings. If you have time, the glorious Yorkshire Wolds beckon beyond.
City of Culture
Hull's City of Culture proposal was founded on a number of celebratory themes, Roots and Routes, Made in Hull,  Freedom and Quirky. Events were held in existing facilities and in new venues which opened in the city in 2017, including the new Hull Truck Theatre, the Albermarle Music Centre, Hull History Centre, and Hull's Fruit Market, now being developed as "the place to be, for arts, culture, digital and technology".
Roots and Routes explored people's roots and connections to Hull and the history, heritage and  demographics of a city at the heart of migration and transition. Made in Hull was a response to the perception the city has that its contribution to the UK has often gone unrecognised. This theme recognised the city's creativity, from theatre, music and poetry to energy, technology and architecture. There was a focus on the writers, directors, musicians and artists who were born or lived there.
Freedom recognised the contribution of Hull in the emancipation movement, with William Wilberforce towering above them all, and the independence of thought, demonstrated by artists such as Larkin and Hockney who worked there.
The fourth category, Quirky,  celebrated "Hullness" – from white phone boxes run by a separate telephone service, to the Museum of Club Culture, Larkin's Toads and artists' gardens in taxis.
04 Nearby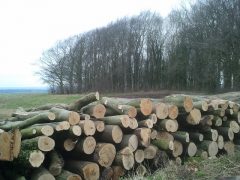 Yorkshire Wolds. Photo: Avril Davies
The Wolds are not well known. This is classic hidden-away England, east of York, south of Scarborough, north of Hull. While other parts of Yorkshire were being ruined by the industrial revolution, the Wolds remained fabulously empty and unblemished, turning to the same, slow seasonal change down the centuries. There are no big roads passing through it, so people don't just chance upon it.
This is a place most of us dash past on the way to somewhere else, a place of wide views, empty horizons and sudden slopes, leading down to quiet villages, scattered all over with those now famous trees, little copses and avenues running along dead straight track.
David Hockney lives in the Wolds and has depicted the landscape in exhibitions. I wrote this during his 2012 exhibition.
A modern master returns to his roots – Hockney's Yorkshire Wolds
York is about an hour away by train.