Car-free day out from London (and elsewhere)
Ascott House in Buckinghamshire - For Mary Gladstone, the 19th century Prime Minister's daughter, it was 'a palace-like cottage, the most luxurious and lovely thing I ever saw.'
Ascott is somewhere to visit without a car, if you want to reduce your travelling carbon footprint. There are two stations on the West Coast Main Line out of Euston within two and five miles respectively.
A five mile walk (from Cheddington Station) isn't excessive for many reasonably fit people, especially if you are making a day of it. So as a CO2 reduction gesture, this hardly involves sacrifice, or a major behaviour change.
There's a dedicated footpath, with quite precise details online, (there's a pub on the way) and you can either go back the way you came, or take the bus, close to the entrance to the house, back to the closer station – Leighton Buzzard. 
For more on my walks by train, Whistlestop Walks, see the entry below.
Main photo: 'The Ascott Circle', circular sculpture composed of pieces of slate from Welsh mines, looking over the Vale of Aylesbury.
What to see and do
Praise from Mary Gladstone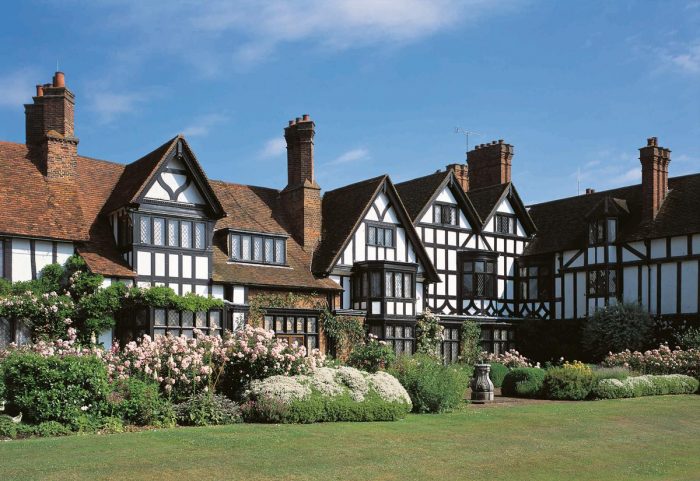 For Mary Gladstone, the 19th century prime Minister's daughter, it was 'a palace-like cottage, the most luxurious and lovely thing I ever saw.' But somehow the message never quite reached the stately home-visiting public.
Today Ascott House, near Wing in Buckinghamshire, is one of the less busy big houses to the immediate north of London. Certainly much less busy than Waddesdon Manor, eight miles away. 
How Ascott grew
Part of the property dates from 1606, but the process of turning a Jacobean farmhouse into a rambling, asymmetrical 'Old English' style manor house, all black and white half timber, with red–tiled roofs and shafted brick chimney stacks happened after the Rothschild family acquired it in 1873.
To Ascott without a car
The easiest public transport option is train to Aylesbury or Leighton Buzzard, then the 150 Max bus which runs between the two. (Leighton Buzzard is nearer, 2 miles away.)
But if you want to make a make a day of it, it's a satisfying walk (5 miles) from Cheddington Station (hourly service service from Euston – 41 minutes – and from the Midlands. Coming south,  change at Milton Keynes). 
The Outer Aylesbury Ring passes close to Cheddington Station. It heads north across country through Mentmore, to skirt the Ascott estate. 5 miles isn't far for the reasonably fit, and two hours or so should do it. Then either retrace your steps, or take the 150 Max bus to Leighton Buzzard station. Photo: Ascott House (courtesy of Ascott Estate)
Mr Gladstone takes the train at Cheddington
"Arrangements were made to stop the 2.45 Euston down express at Cheddington. On Monday Mr. Gladstone drove down to the station, with Lord and Lady Rosebery, in ample time to meet the special arrangements made for them. Some slight astonishment was expressed by a few regular passengers in the train at such an unusual course being pursued. When, however, it became known that Mr. Gladstone was the gentleman thus obliged, the only anxiety was to catch a glimpse of the right hon. gentleman, for whom and Mrs. Gladstone a special carriage had been annexed. The express reached Cheddington about twelve minutes late, but in the course of the journey to Crewe, this was considerably reduced, and Mr. and Mrs. Gladstone arrived at Chester at official time from Cheddington to Chester." –
The Monmouthshire Merlin and South Wales Advertiser, Sept 12th, 1880.
The garden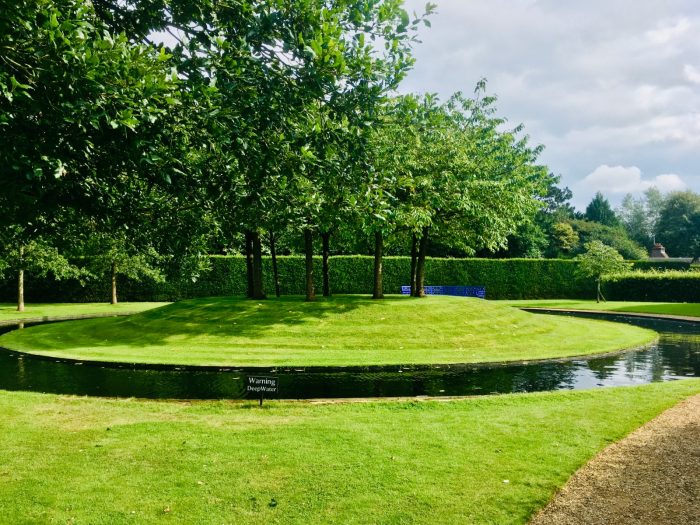 "Ascott Park is a large expanse of mown grass dotted with specimen trees including several fine oaks, cedars and large horse chestnuts. In the spring there is a magnificent display of daffodils.
"The Gardens are a wonderful mix of formal and informal, with fountains, sculptures and colourful bedding plants interspersed with architectural hedging." –  https://www.ascottestate.co.uk/
Walking to Waddesdon
Whistlestop Walks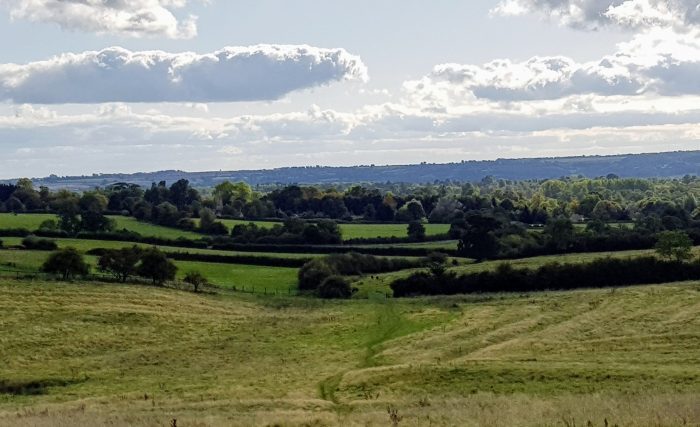 View towards Adlestrop: "Farther and farther, all the birds, Of Oxfordshire and Gloucestershire." Edward Thomas – Adlestrop. (Photo: GHD)
So what is the Whistlestop Walk? It's a simple formula I devised in 2019. I take a train to a station, walk eight or so miles (sometimes more, sometimes less) to another station, which need not even be on the same line, then take the train home. Simple, modest, rewarding. And as low carbon as possible.
Here are some examples. http://www.directoryofdestinations.com/destination/whistlestop-walks-easy-jaunts-railway-station-near/