Whistlestop walk in the Cotswolds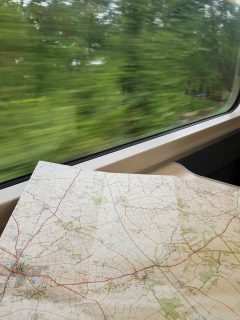 Whistle Stop Walks 
This is the full length version of my walk in the Cotswolds for Hourglass Magazine, October 2019.
The Great Western Railway website performs a useful calculation when I book my ticket for my Cotswolds day out. Making this trip by train I'm responsible for 58% less CO2 than if I'd gone by car.  As we take the true environmental cost of travel seriously in the 2020s, expect to see much more of this extra detail.
I chose the Cotswolds because it's a perfect destination for our carbon-conscious times, as we redefine what we understand by  tourism. What counts as a satisfying leisure trip? Does a day out (ideally by public transport) among this region's gorgeous golden stones leave you any less spiritually fulfilled than the energy-intensive long haul to Angkor Wat?
Google Maps plotted my itinerary. Two buses from my village to Oxford, then 34 minutes by train to Moreton-in-Marsh on the Paddington to Hereford railway conveniently running through the Cotswolds. Than I had six and a half hours to walk the nine miles back to the preceding station, Kingham, before taking the train home.
Cotswolds prosperity was founded on the Middle Ages equivalent of oil revenue, the wool trade. But in terms of aesthetic legacy, the constructions in golden stone those riches funded, from the sumptuous wool churches to the elegant field walls that thread up and over so many hills, display none of the gaudy extravagance financed by petro-dollars.
They form a splendid gilded border to the wide boulevard through the heart of Moreton-in-Marsh. Hotels, tea shops, independent butchers, galleries and, as far as I can see, not a single familiar national catering or retail name. My favourite  golden memory is the Victorian Infant School, now a private house.
I strike off across the fields on the Dimond Way, charting a course on my Ordnance Survey app when,  too often, signposts fail me. The mobile phone can be invaluable. And in extremis you can call a taxi from anywhere, or find the next bus.
I experience another inner glow in Evenlode, a perfect example of the Cotswold village seeming to grow organically out of the soft hills, valleys and little woods. J.B. Priestley summed up the buildings' ineffable colour. "Even when  the light is cold, these walls are still faintly warm and luminous, as if they knew the trick of keeping the lost sunlight of centuries."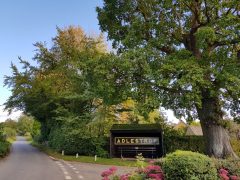 I reach the edge of the National Trust's Chastleton House estate. My path falls away to Adlestrop. Before me, in reverse,  is Edward Thomas's vision of ever-widening circles of singing birds.
In truth there is more memory of Jane Austen's three stays in the village –  her story is told in the church – than the place that inspired one of the nation's favourite poems. No trace of the station; the old station sign survives,  inappropriately, in the bus shelter.
I walk on through yet another handsome village, Lower Oddington, with its rare Saxon church, to tea at Daylesford farm shop.  Expensive but commendably sustainable. They even waymark their own footpath, through organically-farmed fields into Kingham.
As I cross the station footbridge my train, sleek, new, fast, and a harbinger of better public transport to come, glides in.