Freiburg – Black Forest city of green intent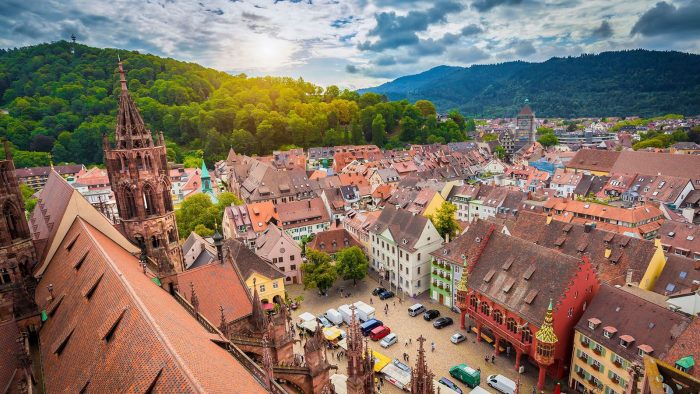 (Image credit: bluejayphoto/Getty Images/BBC)
Miracle Cathedral
There were tubs of geraniums half way up the Cathedral's 377 ft spire on my visit to Freiburg. One way to celebrate a miracle, perhaps, because that's what people here will tell you happened when 1,900 tons of Allied bombs rained down on the  heart of Freiburg on 27th of November 1944, killing many and  destroying 80% of the medieval buildings in 25 minutes. Yet not a single bomb struck the cathedral, described as one of the great masterpieces of Gothic art in Germany, although it was encircled with destruction. There's a simpler explanation behind the survival of the splendid 13th-century stained-glass windows, which could not have survived the terrible heat. When war broke out they were removed and stored. The colours remain as astonishingly vivid as when they were installed – the stained-glass windows cannot be cleaned, as old paintings are. Look for coats of arms of local trades, the bakers, cobblers, coopers and carpenters.
Black Forest Strolling
I walked out of the medieval city at the city gate just beyond my hotel, and, as in a Grimms' fairy tale (it is the setting for many of them) continued into the Black Forest, deep and dark on the hillside above.  This is the western flank of a wooded mountain range, running 90 miles north alongside the Rhine valley. I inspected a multiple choice signpost. Lake Constance was the most ambitious destination, 110 miles east, well signed all the way. Populate this place with whatever you imagination desires – trolls and goblins, wolves and monsters – or simply smile at the people you meet, out for a brisk stroll. The other way to explore is on the Schauinslandbahn cable car. The longest in Germany, 2.25 miles long up to a nearby mountain, it begins in town. Then it's a short step to the recently restored Schlossberg lookout tower,  a 93 ft high platform surrounded by massive Douglas fir trunks, near its namesake restaurant. There's a Nordic fitness park there too.
Restore yourself with a piece of that gateau. Do things properly with the genuine version, several severely wicked layers of chocolate cake, with whipped cream and cherries between each layer, topped with yet more cream, maraschino cherries, and chocolate shavings.
Sun City
If you visit by car, and you aren't using the excellent public transport system – trams go everywhere, and €5 gives you unlimited trains, trams and buses for 24 hours – you could use the multi story car park in Vaubon suburb that doubles as a solar power station. (This was 2007.)
The photovoltaic panels on the roof power the lighting; they sell the  remaining energy to the German national grid. They've seen the solar future in Freiburg,  one of the sunniest places in Germany, and they know it works.
Vaubon is all very bright and clean and futuristic. Solar panels are everywhere. Some houses take all their power from the sun. Others top up with energy from a wood burning power station. Even the local football stadium has solar cells. Catch the no 3 tram down here (destination Vauban) and look around. Or take a tour with Futours
www.freiburg-futour.de  Ask to see the solar powered farm.
Great Bear
This is how ancient the Red Bear hotel is. If our Henry I had been travelling down the Rhine the year it opened, this might have been his overnight option – in 1120. An estimated 60 generations of landlords later, Gasthaus Zum Roten Bären is claimed as Germany's oldest hotel. (Even considering the many venerable German hostelries destroyed in the war, that's still an impressive boast.) Behind a 19th Baroque façade, which survived the 1944 bombing, it is neat and comfortable and doesn't play on its great age. It's gone down only in one sense: the old cellar dates from the time when the road outside was nine foot lower. Ask for a room in the older front. I was in the modern wing at the rear. The consolation was the sweet birdsong, not trundling trams, that woke me. www.roter-baeren.de (No. 1 tram from the station, €2.) An alternative is the Best Western Hotel Victoria (built 1875) Freiburg's carbon neutral hotel. It produces its energy from solar panels, wind turbines and a unit that burns wood pellets. www.hotel-victoria.de
Eat like the farmers
You prepare for the typical Freiburg menu by touring the six days a week Farmers' Market in the Minster Square. Local producers pile their stalls high with whatever is in season – from asparagus to chanterelles, game and Black Forest ham to local honey. And those famous sausages. All you have to do is ask for those same ingredients when you order (most waiters speak English) at a dozen or more traditional restaurants. The 200 year old Oberkirchs Weinstube, next to the market, is typical – panelled and mirrored, with a ceramic stove made with ornate tiles. As well as set lunch and dinner, they do a "Vesper Menu", with good, old-fashioned fare such as juniper-smoked trout fillet, Alsatian sausage salad, and smoked pork shoulder, all with the local pasta, "Spatzle". The one Michelin-star Zur Traube is one of the best in town. There's unfussy dining at Cafe Atrium and La Cicogna. For a pre-prandial, Bar Hemingway does some good non-alcoholic cocktails.
Making music.
While crossing Minster Square at dusk I heard a sound like musical thunder. And I was heading straight for the storm. A performer was raising a crescendo on the cathedral organ, which is actually composed of four organs, over 1000 pipes, played together from a single console. I joined the marvelling group outside the great closed cathedral doors, transfixed by one of the biggest sounds a single musician can make anywhere. The cathedral's regular organ recitals are one small piece in Freiburg's musical jigsaw. Great jazz trumpeter Miles Davis once performed in the Jazzhaus – hear live music there most nights.  Germany also throws big money at classical music. The Freiburg Baroque (who perform at the BBC Proms), specialising in C17 and 18th music such as Bach and Vivaldi, is a leading orchestra.